*Due to COVID-19, in-person visitation has been suspended until further notice. Click here to create your online video visitation account.*
The Pulaski County Regional Detention Facility will ensure that all inmates are offered the opportunity to maintain ties with their families, friends, and the community by allowing inmates visiting time. You may obtain additional visitation information by calling (501) 340-7001 and selecting option #1.
In compliance with state and nationally recognized standards and statutes, inmates confined in the Pulaski County Regional Detention Facility will be provided the opportunity to visit with family, friends, and professionals during times designated for visiting by the Chief Deputy of Detention. Inmate visits may be restricted, consistent with administrative limitations and the need to uphold facility security.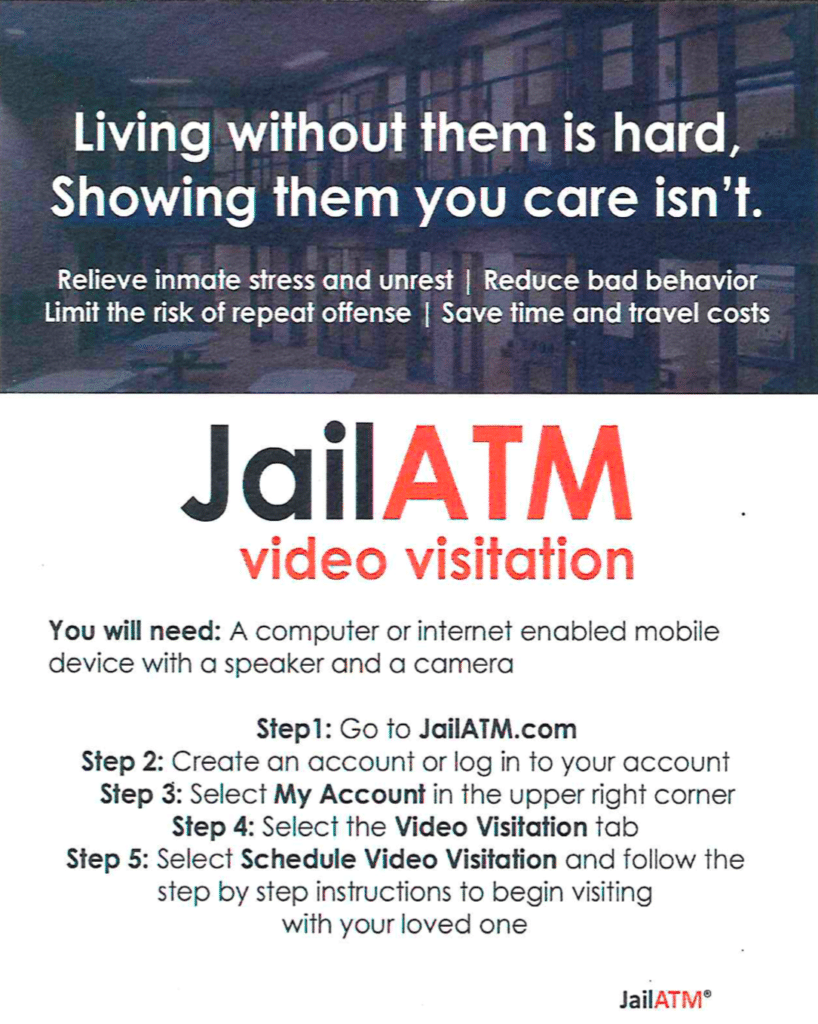 The detention facility offers both in-person and video visitation. *Click here to create your online video visitation account.*
Persons wishing to schedule an in-person visit with an inmate must notify the visitation section and schedule a visitation time twenty-four (24) hours in advance. Visiting hours for the inmates will be allowed from 0900 hours to 1900 hours (9:00 a.m. to 7:00 p.m.). All visitation periods will start on the hour, with the exception of visits scheduled at 1630 hours (4:30 p.m.). Inmates are allowed one thirty-minute visit per week, with no more than three visitors during this thirty-minute period. NOTE: Visitation will be closed during county-observed holidays, inclement weather, a facility code, and instances beyond our facility's control. In the event of visitation closing for any reason, visits scheduled that day will have to reschedule the following week (unless there is prior authorization from the Captain of Housing and Security or designee).
Inmates whose last name begins with A-M will be afforded visits on Monday or Saturday.
Inmates whose last name begins with N-Z will be afforded visits on Tuesday or Sunday.
Inmates housed in A, B, and W Units will be allowed visits on Wednesday or Thursday.
Inmates on disciplinary status are restricted from personal visits during their disciplinary sentence.  Visits may be scheduled once an inmate completes disciplinary status or during the designated reprieve period. 
VISITATION FOR TRUST UNITS:
Trusty Units (W-1, W-2, and W-3) are allowed one thirty-minute visit per week.  The visit will be scheduled during the inmates' work time.  Inmates in W-2 and W-3 units will be responsible for scheduling their own visitation and notifying their family member(s) of the visitation time. Family members of inmates housed in the W-1 unit will need to contact Visitation to schedule their appointment twenty-four hours in advance.  Appointments will not be scheduled during an inmate's designated work times, and inmates will not be held in from their work assignment unless prior authorization has been given from the On-Duty Watch Commander or designee.  The visitors will report to the main building (visitation section) to obtain a visitor pass and directions to the Satellite Unit. Only three visitors may visit at one time.
All social visits will be limited to thirty minutes and will take place in the visiting areas located in each housing unit.  Visits may occur in other visitation areas of the facility according to the special needs of inmates and facility operations.  
If you are late for your visit (10 minutes or more), you will not be allowed your visit and will need to reschedule for the following week. NOTE: Attorneys and clergy will be given priority provided they can establish that a need exists to see the inmate immediately – provided they have proper identification.
PROFESSIONAL VISITS:
Attorneys, Law Enforcement Officers, Private Investigators, Religious or Program Volunteers
Professional visitors will be allowed to visit inmates any day during the week, provided the visit does not jeopardize the security of the facility or interferes with the normal operations of the facility (e.g., the visitor arrives at a time when headcounts are being conducted, meals being served, etc.)
Professional visitors may not give anything to the inmate. Exceptions are: Attorneys may leave documents with their clients. Approved religious volunteers may leave religious pamphlets with the facility Chaplain, who in turn, will distribute them to the inmates. Bibles must be softbound and must be left within the visitation booth for the inmate. The facility Chaplain will deliver the Bibles to the inmates. Approved clergy will be permitted to visit anytime during normal business hours in the visitation booth with inmates who are members of their congregation. If you are clergy and are related to the inmate, you must be on their visitation list, and you will need to make an appointment.
Private investigators will be allowed a non-contact visit as a professional visit. If they wish to have a contact visit, this will have to be approved by a Lieutenant or above.
FACILITY ENTRANCE FOR ALL VISITORS:
All visitors will be required to enter the facility through the visitors' entrance and will be required to secure their belongings in the lockers located in the visitors' lobby. Visitors will not be allowed to take any items back with them during their visit. This will include clothing items, notebooks, pens, pencils, money, food items, keys, cell phones, etc. Attorneys may take legal documents to their client (this will not include legal pads and pencils). Approved religious volunteers will leave all religious materials with the facility Chaplain. Law enforcement must secure their weapon in the lockers provided but may take their cell phones with them.
All visitors, other than law enforcement, must clear the metal detector. Anyone that does not clear the detector will be searched and cleared by the visitation deputy. Failure to accommodate these requirements will be sufficient justification for refusing entry into the facility.
SPECIAL VISIT:
Visits approved by the Watch Commander or higher authority for inmates who have a special set of circumstances (i.e.; death or serious illness of a close family member), or the visitor(s) have traveled over one hundred (100) miles – one way.
PROPER IDENTIFICATION:
All visitors must show proper photo identification, such as a driver's license, military ID, school ID, or law enforcement ID, prior to their visit. Children under the age of 18 will not be required to produce identification; however, an adult who does have a valid form of identification must accompany them.
Children under the age of 18 must be accompanied by an adult at all times.
Under no circumstances will a child under the age of 18 be allowed to be unaccompanied or unsupervised on Pulaski County property.
TERMINATION, SUSPENSION, or DENIAL of VISITING PRIVILEGES:
Falsification of ID by a visitor to obtain entry into the facility for visiting purposes.
Unruly or disruptive behavior before or during a visit.
Any attempt, successful or otherwise, to bring contraband to an inmate.
Any attempt to visit an inmate while appearing to be under the influence of drugs or alcohol.
Any other type of behavior or incident that would threaten the security and order of the facility or is in direct conflict with the rules or orders given to the visitors.
Special visits may be approved if the visitor has traveled 100 miles or more for a visit. You will be asked for proof of distance, such as a driver's license with your address.
Visitation will not accept property for inmates.
VISITATION & MAIL INFORMATION:
The following is a list of items that inmates cannot receive during their incarceration here. Any mail having one or more of the following items will be returned to the sender.
Checks or cash are not accepted.
No pictures or photocopies of pictures.
No construction paper, glue, tape, or glitter.
No fragrance on or in the envelope.
No stickers, re-address labels.
No ribbon, metal, magic marker, or crayons.
No mail-in envelopes, stamps, or writing paper (these items can be purchased from Commissary).
No books are allowed to be mailed in or brought in, with the exception of soft-back Bibles that are standard size. Must have "Bible" on the outside near the address.
Newspapers and magazines must be subscriptions and come from the publisher. Inmates cannot send letters to other inmates in this facility.
Any individual attempting to introduce contraband and/or illegal items into the facility, through postal mail or by use of their professional visitor privilege may be subject to visitation restrictions and other consequences up to and including criminal prosecution.